• Joseph DeCristoforo • Birthstone • Citrine • November • Topaz
November is traditionally the month to be thankful and there is a focus on family and food.  Many countries around the world have various celebrations in November. It is no surprise that November birthdays are associated with these earth toned gemstones Citrine and Topaz.  Click HERE to see our Citrine or Topaz gemstones or jewelry Citrine - 13th Wedding Anniversary     Sister to amethyst, this golden quartz gem is a symbol of warmth and affection.  Today, Citrine is known as the merchant's stone and is associated with success and prosperity.Citrine is a member of the quartz family and derives its name from...
---
• Joseph DeCristoforo
It's January and there is no better way to celebrate the beginning of a new year than paying homage to one of the most revered gemstones produced by mother earth. Garnets dazzle the visual senses as they are one of the few gemstones that spans a broad spectrum of colors. Click HERE to see our Garnet gemstones and jewelry. GARNET Named for its likeness to pomegranate seeds, Garnet is best known for its shades of red. This popular gemstone is also available in a rainbow of colors from the deep red Bohemian Garnet to the vibrant greens of the Demantoid and Tsavorite....
---
• Joseph DeCristoforo
December is usually a time of year when we reflect on the year that has passed and look ahead to a new one. For those who celebrate birthdays in December, it is also a month of exceptional birthstone choices with Tanzanite, Zircon and Turquoise to choose from. Click HERE to see our Tanzanite and Zircon gemstones or jewelry. TANZANITETanzanite is an exotic gemstone that can only be found only in one place on Earth: the foothills of Mount Kilimanjaro. It is a relative newcomer to the gemstone world and was not discovered until the mid-1960's. It is one of today's...
---
• Joseph DeCristoforo • Amazon Imports • October • Opal • Tourmaline
October birthdays are fortunate to have two beautiful and colorful birthstones: tourmaline and opal. Each exhibits an array of colors, making them a popular choice with gemstone buyers and jewelry designers.  Click HERE to see our Tourmaline or Opal gemstones or jewelry. Tourmaline – 8th Wedding Anniversary                                                                Perhaps the most diverse gemstone available, Tourmaline lives up to its name, which means "multi-colored" and is available in a dazzling array of...
---
• Joseph DeCristoforo • Amazon Imports • Store news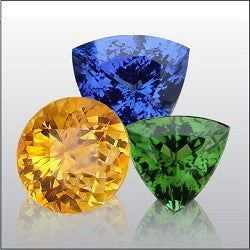 We are pleased to launch our new website after 38 years of selling wholesale and at gem and jewelry shows throughout the United States. Now everyone can benefit from our international buying experience and established network of contacts, enabling us to pass along cost savings and value to all potential customers. We welcome your comments or feedback on the site so we can better serve you. Thank you